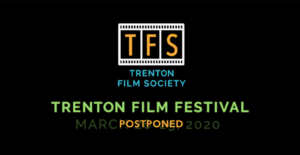 POSTPONED:
2020 Trenton Film Festival
UPDATE March 11, 2020:
We are postponing the 2020 Trenton Film Festival out of concern for our patrons' safety, due to the coronavirus/COVID-19 pandemic.
We are looking into alternative weekends later in 2020 to host our festival. We will keep you apprised as soon as we have set the dates.
---
For a list of films in competition, visit Trenton Film Festival page.
To our Community
June 17, 2020
Trenton Film Society believes in the power of film to tell stories, including those that are familiar to our individual experiences and those that are not.
We recognize that too often the stories of African Americans have been untold and the voices of African-American filmmakers have been unheard. We stand in solidarity with the Black Lives Matter movement. We commit to doing more in the city of Trenton and beyond to provide a platform that welcomes, supports and amplifies black and brown voices through film.