PAST SPECIAL EVENTS
---
TONI MORRISON: THE PIECES I AM (2019)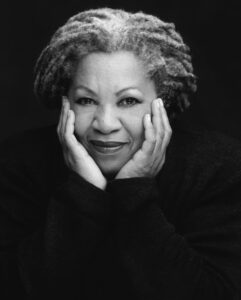 Sunday, Nov. 3, 2019, 1:30 p.m.
PG-13; 2 hours plus a post-screening discussion moderated by Kinohi Nishikawa, Princeton University Professor of English and African American Studies
 Tickets: $5 general admission; free for students with ID
Join us for a one-time-only screening of this artful meditation on the powerful themes Toni Morrison has confronted throughout her literary career. The Nobel prize-winning author leads an assembly of her peers, critics and colleagues on an exploration of race, history, America and the human condition. When she saw the finished film, she told filmmaker Timothy Greenfield-Sanders: "I like her." We suspect you will too.
Read an Indiewire interview with filmmaker Timothy Greenfield-Sanders. ☛

---
Sing-Along Rocky Horror Picture Show
Sat., Oct. 27, 2018
We did the Time Warp again at our second annual singalong Rocky Horror Picture Show screening.
---
It's a Wonderful Life (1946)
Saturday, Dec. 16, 2017, 7 pm – FREE
Join the Trenton Film Society and Passage Theatre for a special free screening of the 1946 holiday classic "It's a Wonderful Life" by Frank Capra, starring Jimmy Stewart as George Bailey, a man who is about to give up on life until his guardian angel shows him how things would be different if he had never been born. And keep the spirit going after the screening at a reception downstairs, complete with cookies and caroling!
---
Sing-Along Rocky Horror Picture Show
Saturday, October 28, 2017, 8:00 pm
Tickets: $15
Need an excuse to pull out those fishnets? The Trenton Film Society and Passage Theatre Company invite you to do the time warp and sing along with the 1975 cult classic The Rocky Horror Picture Show on Saturday, October 28 at the Mill Hill Playhouse. The event, MC'ed by Trenton filmmaker Jeff Stewart (A Different Path Films), will be kicked off by a parade for all costumed participants to show off their Rocky Horror/Halloween finest, with prizes for the best costumes and other raffles. Rock your best Frank-n-Furter, Rocky, or Janet! We'll provide the props, you bring on the shouting, throwing, dancing and singing! The fun will continue after the movie with a party downstairs.
---
Trenton – Chicago Film Exchange
Friday, July 28: 7:00 pm
$10 admission includes both screenings and reception during intermission. Proceeds benefit the Trenton Film Society.
PART ONE: CHICAGOLAND SHORTS
(Total running time: 70 minutes)
Zwischen
Lori Felker
ZWISCHEN ("between" in German) exists on the thin line between opposing forces. Dirt moves over light to a hand-drawn soundtrack of noise and space. 3min, 2006.
Blokd
Martin Mulcahy
Through the voices and tools of his great grandfather, an early avant-garde filmmaker, a man explores the world as if we are living inside a movie set. 5min, 2016.
Yo No Soy Esa
Diana Delgado Pineda
On an ordinary winter afternoon, a mother does laundry and her daughter puts her clothes away. What could happen when Mom isn't looking? 6min, 2014.
Ant House
Valia O'Donnell
The house of a family torn by domestic strife is eaten by termites as a manifestation of the tension within. 2min, 2016.
Giants are Sleeping
Amanda Gutierrez
The identity, transformation, and ownership of one Chicago electrical substation, exploring the relationship between human memory and architecture. 11 minutes, 2014.
Selfie
Valia O'Donnell
A multi-media animation contrasting tourism in Rome with the experience of a Bangladeshi immigrant selling selfie sticks. 1min, 2015.
Chosen People
Qihui Wu
An experimental documentary depicting the daily activities of the Israel of God Church on the south side of Chicago. 18 min, 2016.
Grandma & Me Dancing with Hibari
Elliott Chu
Elliott's grandma is awakened to dance with her favorite Japanese singer. 2min, 2016.
Hail Mary
Emily Esperanza
An exercise in holding space (vulnerability). 16 min, 2016.
Sparrow Duet
Steve Socki
Animated abstract shapes and gestures dance together in patterns suggesting ritualistic, bird-like action. 4min, 2014.
PART TWO: TRENTON MAKES
(Total running time: 76 minutes)
Selkie
Amy Frear
A wayward selkie (a seal that can turn itself into a human) has followed a school of herring up the Delaware river when her seal skin is captured by a man from the Fishtown neighborhood of Philadelphia. 8 min, 2016.
The Joke's On You
Adrian Colon
Adrian Colon, an up-and-coming comedian from Trenton, NJ, struggles with anxiety and troubles in his past as he tries to return to the stage after a 2-year hiatus. 25 min, 2014.
Paco
Catalina Alvarez
An experimental comedy about a cat caller. 12 min, 2016.
Frieda & Eddie: A Jersey Shore Love Story
Jennifer Suwak & Steve Abruzzese
Two years in the life Frieda and Eddie, who dated in 1942 until Eddie was drafted into the service for World War II. They separated, married other people and had families of their own. After both of their spouses died, they reconnected and found it's never too late for love. 24 min, 2014.
The Ballad of Craig Kelly
Jeff Stewart
A semi-autobiographical short about love and loss, told in real time.  Based on the life experience of actor Craig Kelly, it is a stream of consciousness narrative dealing with a lonely man coming to terms with his past, present and future mistakes.  8 min,  2017.
---
PopUp Anthology at Trenton Film Society: Local Film Night
January 14, 2017, 7:00 pm
Doors at 6:30 | Program at 7:00
DAYDREAMER
(16m) A young woman imagines herself as the hero in some of her favorite movies in order to recover from a recent traumatic event.
Producer/Actress: Erin Zapcic
If you can't figure out where you know Erin Zapcic from, chances are you've got a picture of her in your home as Princess Catalina at Medieval Times in Lyndhurst, New Jersey. You may also have seen her in the critically acclaimed web series CASTERS (remastered and slated for re-release online in 2016), which introduced her to a creative team with whom she has collaborated on several projects. In addition to producing her first short film DAYDREAMER, she has two web series in the works, including TRENDING with Rosalie Tenseth.
WOLF OF THE WOODS
(4m 30s) A father and son must overcome the monster that's tearing them apart.
Director: Evan Maron
Evan Maron is an animator, visual storyteller, and part-time oak tree. It is his goal to express complex emotions by experimenting with the boundaries of design and narrative in animation. His work has been shown in local galleries and auditoriums around Philadelphia and Wilmington. He recently received a Bachelors of Fine Arts in Animation at the the University of the Arts, and works as a Software Engineer at JPMorganChase.

THERAPY
(11m) Ready to confront her darkest memories, Jacqui finds herself in the office of Dr. Barnes, a man who may have dark memories of his own. Though heavily scarred, Jacqui will face her history at any cost. The hardest part will be deciding what she must do after confronting her demons. Can she and her doctor accept the consequences, as the sins of the past erupt into the present?
Producer: Melissa De Leon
Melissa De Leon is an independent filmmaker based in the East Coast who earned a degree in Film and Media Arts from Temple University. She began producing in 2010, starting with a senior thesis project called The Journey. She has now produced 7 projects, including Therapy, which won The Viewers' Choice Award from Xfinity OnDemand, an Honorable Mention from Bucks Fever FilmFest, and recently won Best Actress in a Narrative Short Film from the WideScreen Film & Music Video Festival. She is currently producing a documentary called A Bird Without Wings and is developing a web series called Lies by Omission.
SELKIE
(8m) A wayward selkie (a seal that can turn itself into a human) has followed a school of herring up the Delaware river when her seal skin is captured by a man from the Fishtown neighborhood of Philadelphia.
Writer/Director: Amy Frear
Amy Frear is a filmmaker and theatre artist based out of Philadelphia, PA. Her work explores journey, connection, getting lost, time travel, the occasional historic figure or marine mammal, and always a bit of magic. Her films include Another Time and Selkie.
FRAME OF REFERENCE
"Frame of Reference" focuses on Alex and her best friend Lauren as they recount Alex's latest failed relationship. But are they even talking about the same thing? Alex tends to wear a romanticized 1940s filter on her memories and Lauren, well, Lauren doesn't remember it quite so nicely. Who's right and who's wrong? It all depends on your frame of reference.
Writer/Producer/Actress:
Gina Marie Rodriguez
A graduate of Rutgers University, Gina Marie Rodriguez holds a B.A in Theater Arts and Communication. She bides her time blogging, scriptwriting, filmmaking, acting and modeling. She has three independent films under her belt and is the Founder and Director of the Rahway International Film Festival.
PopUp Anthology is an initiative to promote local films to local audiences. This program was curated by filmmakers Katherine Clark & Adrian Colon. Learn more at www.popupanthology.com.
All proceeds benefit the initiatives of Trenton Film Society. 
---
PopUp Anthology at Trenton Film Society
Friday, September 16: 7:00 pm
$10 admission includes screening and reception.
Proceeds benefit the Trenton Film Society.
Local Films by Local Filmmakers. Join us for a special evening of select short films by NJ and PA filmmakers curated with our friends at PopUp Anthology. All filmmakers will be in attendance for a Q&A and reception following the screening.
PACO (12m, 2016) by Philadelphia-based filmmaker Catalina Jordan Alvarez is an experimental comedy about a cat caller. Alvarez, who describes herself as a "global Southern Latina writer and director," holds degrees in acting and film from NYU Tisch School of the Arts and Temple University.
Music video I CAN'T BREATHE (3m, 2015), a poignant critique of racial disparity, was created as part of Trenton native Rihki Kennebrew's scholarly thesis at Cheyney University. The video won an Honorable Mention, Best New Media award at the 2016 Trenton Film Festival.
Documentary short THE JOKE'S ON YOU (25m, 2014) follows Adrian Colon, and up-and-coming comedian from Hamilton, NJ as he struggles with anxiety, family, and a troubled past in an effort to return to the stage after a 2-year hiatus. The film won the Audience Favorite award at the 2015 Trenton Film Festival.
Comedy series trailer TRENDING (7m, 2016) by writer/director/actor and Morris County resident Rosalie Tenseth follows the office politics of a social media PR firm. Tenseth's acting work has been seen in numerous television and stage productions.
ONE LOVE (5m, 2014), a music video produced by Trenton filmmaker Jeff Stewart for community-conscious Trenton rapper Black Collar Biz, shares a message of unity and hope. Educated at NYU and Temple University, Stewart is Board Chair of the Trenton visual arts center Artworks.
Fiction short ANOTHER TIME (24m, 2015), directed by film and theater artist Amy Frear, tells the story of a twenty-something woman dealing with life and loneliness in the City of Brotherly Love. The film was inspired by Frear's job as a tour guide in the historic Old City section of Philadelphia.
---
Riot on the Dance Floor: The Story of Randy Now and City Gardens
Post-screening Q&A with director Steve Tozzi, Randy Now, and music supervisor Toby Record.
February 11-13, 2015, 7:30 pm
Three sold out shows!
Riot on the Dance Floor: The Story of Randy Now and City Gardens is a
documentary from director Steve Tozzi that features the stark and iconic
photography of Thrasher Magazine's Ken Salerno. It is told through an oral
history format of in-depth interviews and archival footage, bringing to life
the gritty story of one of New Jersey's most infamous clubs and its larger
than life promoter. City Gardens was a venue for underground music and during
its time it traversed the entertainment spectrum; from the comedy of Henny
Youngman to Nine Inch Nails, New Order to Nirvana. Riot on the Dance Floor
is a journey of musical champions and underdogs and above all, the freedom
and liberation of having complete creative control.
Wednesday, Feb. 11, 7:30 pm – Sold Out
Thursday, Feb. 12, 7:30 pm – Sold Out
Friday, Feb. 13, 7:30 pm – Sold Out
---
Trenton Makes… Movies
Presented by Trenton Film Society and Cinema Thursdays.
Shorts by local filmmakers, followed by a panel discussion with the filmmakers and audience Q&A.
Discover what is happening in Trenton's largely underground film scene, and meet the filmmakers. Affords audiences an insider's view into the making of film as well as the chance to see new, cutting-edge footage.  Curated by Jeffrey Stewart of A Different Path Films
Saturday, November 8,  7:30 PM at Mill Hill Playhouse -- FREE

"15 Years in the Making"
Director: Joshua Birkhimer Borden
20 Minutes
On a beautiful summer's day in the park, life long friends Jennifer (Lori Reed) and Michael (Frank Williams) stop to sit on a special bench to reflect on their long lasting friendship and the reasons for it's longevity only to discover their true feelings for each other. "15 Years in the Making" (A.K.A. The Bench: Chapter 8) marks the first collaboration between writer Christopher Michael Jones, Producer Jeff Stewart, and Director Joshua Birkhimer Borden with his skillful cinematographers Malachi Matcho and Jamaal R. Green as part of the Art All Night Film Festival presents The Bench film project.
"The Butcher"
Director: John E. Vitali
Producer: Jeannie Sconzo
2 Minutes
Christopher woke up to find he doesn't know where he is, how he got there or who the lady butchering his penis is.
"I Love My Family…Honestly"
Director: Jeannie Sconzo
11 Minutes, 47 Seconds
Description: Sarah is finally within reach of her goal weight, the weight she had before the births of her two children! Just as she's preparing to celebrate, her jovial friend offers a possible reason for her sudden sluggishness – could it be a pregnancy?
"Atonement"
Director: Brandon Norwood
21 Minutes
"Atonement" is a short noir thriller about a man named Eric who has lost his girlfriend recently and looks not only for answers, but also revenge. But is there something wrong with Eric?
"Good Morning"
Director: Rachel Troche
5 Minutes, 19 Seconds
A man, a woman, and a gun…each with their own secrets.
"Perchance To Dream"
Director: Rachel Troche
10 Minutes
In this modern adaptation of "Sleeping Beauty," Aurora suffers from narcolepsy. She has recurring dreams of Phillip, a handsome and charming man who exists only in her head. When Phillip starts appearing in her waking world, she has trouble determining if she's awake or if she's having another sleep attack. And if she is asleep, does she really want to wake up?
"Martyr"
Director: Jeff Stewart
3min, 41sec
In the town of Friendship, a place the world has forgot, a group of immortals engage in an annual ceremony to ensure their way of life. Sometimes, eternity demands a sacrifice.
"Dollar Night"
Director: Marco Antonio Martinez
18 Minutes
"Dollar Night" tells the story of Andy, a vibrant 80 year old theater projectionist whose love for cinema is tested when faced with the closing of his beloved theater.
"Bruno"
Director: Sam Goetz
TRT: 34 Minutes
Bruno is the story of an asthmatic misanthropic bicycle enthusiast named Derek and his sensitive All-American sitcom-loving cousin Bruno. The two opposites live together in the decaying suburbs of Trenton, NJ with Bruno's mom, the disgruntled and terrifying Aunt Sarah.